It's an especially rich week for thrillers, including a lively tropical thriller series going for 99 cents (for three days only) and a medical thriller set from 17 authors also going for 99 cents — and benefiting two great nonprofits.
Plus, free mystery, fantasy, sci-fi and time-travel romance ebooks. And our Indie Film of the Week shows us the tragic beauty of Budapest just before WWI.
This week's top curated picks:
Indie ebook spotlight
Click an image to go to its Amazon page. (Note: Kindle ebooks can be read on any mobile device; just use the free Kindle app.)

99 cents preorder price on Kindle for a limited time for all 17 books
Do No Harm — 17 thrillers box set!
By Judith Lucci, Edwin Dasso, Tamara Ferguson and 14 other authors
Various publishers
Medical thriller: We typically don't spotlight preorders, but we're making an exception for a good cause and a fantastic stable of USA Today, Wall Street Journal and Amazon best-selling authors!
Do you crave reading books with nail-biting suspense, twisted plots and great characters who get caught up in whirlwinds of crime, deception and lies? Do you love sitting on the edge of your seat, wondering who will survive … and who won't?
From the mountains of West Virginia, to acute care hospitals, the battlefields of the Middle East and the hallowed halls of our educational system, prepare to be wowed by these incredible stories of healthcare gone wrong. Do No Harm is a binge-reader's dream – 17 medical thriller books in one.
Grab it here for only 99 cents. 100% of preorder proceeds go to benefit the charities Operation Renewed Hope Foundation and Paws for Purple Hearts!
---

99 cents on Kindle for three days only ($12.99 print, $14.95 audiobook)
Rogue Wave: A Troy Bodean Tropical Thriller #1
By David Berens
Publisher: Tropical Thriller Press (the author's imprint)
360 pages
Crime fiction: What would you do if you found a hat with a $7 million check hidden inside? What if it came off a dead man's head?
When Troy Bodean finds the unlucky hat in an abandoned aluminum fishing boat, he attracts a bevy of killers out to get the hat back—and kill him in the process. Author Dave Berens – a talented storyteller – introduces a wide cast of memorable characters in this zany and raucous tropical thriller reminiscent of Carl Hiaasen at his best.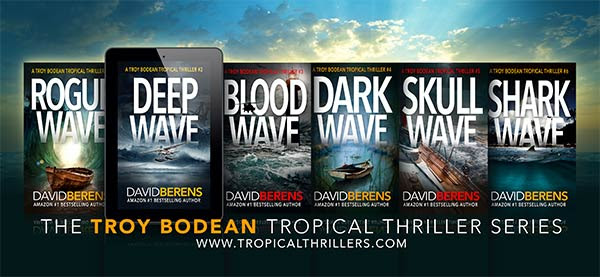 From now through Friday, get all the books in Dave's terrific tropical thriller series for 99 cents each.
Top ebook deals of the week

Free on Kindle for a limited time ($12.99 print) 
Stealing Time 
By KJ Waters
Publisher: SkipJack Publishing (a boutique publisher)
280 pages
#1 Free title in the Kindle Store
Time travel romance: As a hurricane hits their town, two best friends are separated — across centuries. When Ronnie finds herself in 18th-century England, she's desperate for a way back and must rely on the help of handsome stranger Mathias. An engaging romance with a time travel twist.
---

$2.99 on Kindle for a limited time (regular price $4.99)
Knife Point
By Jim Heskett
Publisher: Royal Arch Books (the author's imprint)
293 pages
Spy thriller: Retired Assassin Layne Parrish is used to people around him disappearing. But when his old partner Jonah — who's been missing for six years — shows up while Layne is on vacation with his family, Layne sees a deeper conspiracy. Jonah now claims he doesn't know Layne. Somewhere, there's a puppet master pulling the strings. Layne launches a deadly cat-and-mouse game to save Jonah from the man trying to control him. Because if that man exposes their dark secrets, thousands could perish. A riveting read and brand-new release!
---

Free on Kindle for a limited time ($16.99 print, $15.30 audiobook)
Golden Curse
By M. Lynn
Self-published
242 pages
#1 free in Dark Fantasy Horror & Fairy Tale Fantasy in the Kindle Store
Fantasy: An age-old curse brings 18-year-old Persinette back to the palace she fled long ago. But her return is not welcomed. To stay, she must enter a brutal tournament to win her place as Prince Alexandre's protector. A fantasy full of magic and romance.
---

Free on Kindle and other major retailers for a limited time ($6.99-$27.31 print) 
Icefall: A Dane Maddock Adventure
By David Wood
Publisher: Adrenaline Press (an indie publisher)
190 pages
Adventure thriller: When the bones of the Magi are stolen from their resting place in a German cathedral, a dying priest's whispered clue catapults Dane Maddock and Bones Bonebrake, former Navy SEALs turned treasure hunters, into the midst of a deadly race to solve a centuries-old conspiracy. Danger lurks at every turn and no one knows where the clues will lead or what they'll uncover. From ancient cathedrals, to hidden temples, to icy mountain peaks, Dane and Bones must outrun and outwit their enemies in the pulse-pounding adventure. Fans of Dan Brown, Clive Cussler and James Rollins will love this thrilling novella from a USA Today bestselling author.
Get it free from your favorite ebook retailer!
---

Free on Kindle & other retailers for a limited time ($18.95 paperback)
Qualify
By Vera Nazarian
Publisher: Norilana Books (the author's imprint)
600 pages
#1 free in Post-Apocalyptic Science Fiction in the Kindle Store
Sci-fi adventure: From a Nebula Award finalist comes this tale set in the year 2047 when an asteroid threatens extinction on Earth. Aliens offer protection — but only perfect candidates will qualify. Can bookish Gwen beat the odds and pass the test?
---

Free on Kindle for a limited time ($15.09 paperback) 
Sacrifice
By Carolyn Arnold
Publisher: Hibbert & Stiles Publishing (the author's imprint)
380 pages
Mystery: Strong-willed and courageous detective Madison Knight sacrifices everything when she investigates the murder of a business tycoon's son. The title has more than 450 five-star ratings on Goodreads.
Indie Film Watch

Evelin Dobos in "Sunset."
Sunset
Oscar winner László Nemes follows up his "Son of Saul" with another riveting period that takes us to the last moments of Budapest's grandeur of 1913 even as you mourn what will soon befall the Austro-Hungarian Empire. "There's sadness and beauty in every frame," says IndieWire, calling it "a masterful new film."
Released March 22, coming soon to Netflix and other streaming and DVD services
---