One of the nice things about living in the San Francisco East Bay is how many talented writers and authors live in the area. I've been attending the Tri-Valley Writers critique sessions every month for the past two years while they got first crack at "Biohack," "Catch and Kill" and now my third Shadow Operatives thriller.
Last month, as well as last week, I hosted the writers at my house. Here's a shot of us during our two-hour session on my back deck at dusk (as my dog went for a photo-bomb). Hope you get time for interaction with friends and peers on a regular basis!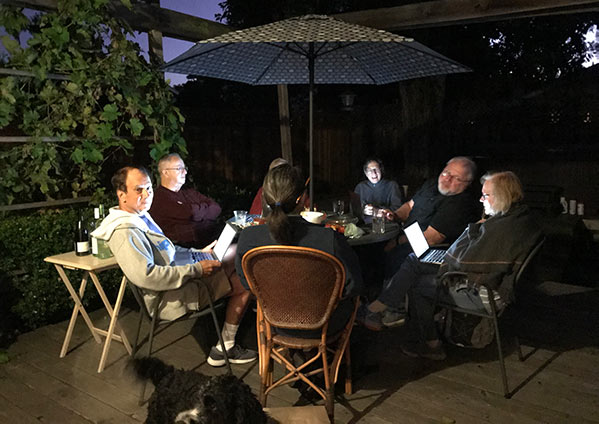 This week in Best of Indie, top ebook bargains include a chilling psychological thriller,  some post-apocalyptic and time-travel sci-fi, historical adventure, crime fiction, fantasy and romance.
All titles range from free to 99 cents except for a nine-book special for $1.11 per title. And our Indie Film of the Week is "Booksmart," a fun and unpredictable high school romp.
This week's curated picks of quality ebooks at bargain prices:
Indie ebook spotlight
Remember, you don't need a Kindle to read an ebook. Download the free Kindle app and read these on your smartphone or tablet.

Free on Kindle for a limited time ($9.99 print)
Don't Tell Meg
By Paul J. Teague
286 pages
#1 free in Vigilante Justice in the Kindle Store
Psychological thriller: When radio journalist Pete Bailey gets involved with reporter Ellie Turner, he triggers a series of events that begins with betrayal and may end in murder. A chilling read filled with twists and turns.
---
99 cents on Kindle until Friday at midnight ($15 print)
Breaking Gods
By D.J. Molles
324 pages
Post-apocalyptic science fiction: In the beginning, the gods destroyed the world. Five hundred years later, things haven't gotten much better for humans. The demigods that were left behind to guard over humanity have been using them as fodder for an endless civil war between themselves, and the humans just go on dutifully slaughtering each other. Perry McGown makes his living off those bloody battlefields by reclaiming spent shell casings. But he soon becomes a hunted fugitive, because  the truth about Perry could break the gods.
Top ebook deals of the week

99 cents on Kindle until Saturday night ($15.64 print)
Darkness Beyond
By Glynn Stewart
400 pages
Science fiction: A newly founded human colony world burned from orbit. A warship squadron of the galaxy's oldest race ambushed and destroyed. An ancient enemy reborn in the darkness beyond the known stars. An entertaining space fleet intro to the Duchy of Terra series.
---

Free on Kindle for a limited time ($14.95 print)
The Secret of the King's Tomb
By Garrett Drake
308 pages
#1 in Pulp Thrillers in the Kindle Store
Action and adventure: After World War I, renowned explorer Richard Halliburton heads to Egypt on a mission to track down an ancient artifact. Can he keep the legendary treasure from falling into enemy hands? A fast-paced historical adventure!
---

99 cents on Kindle until Thursday at midnight ($10.99 print)
Parallel Moon
By J.R. Rain and Kris Care
262 pages
Time travel science fiction: When a phantom memory strikes, Samantha Moon's world is turned upside down. She's about to discover that going back in time comes with some complications. Like having two memories of returning home from the Civil War.
---

Free on Kindle for a limited time ($14.95 print)
The Women on Retford Drive
By Alretha Thomas
355 pages
#1 free ebook in the Kindle Store
Crime fiction: Just when she's about to leave him for good, former TV star Julia's manipulative husband goes missing. She and her stepdaughter, Blythe, search for answers — but with the evidence pointing in a shocking direction, are they ready for the secrets they might uncover?
---

Free on Kindle for a limited time ($9.95 print)
On the Accidental Wings of Dragons
By Julie Wetzel
236 pages
#1 free in Fantasy & Futuristic Romance and Mythology & Folk Tales in the Kindle Store
Fantasy: When Michael investigates a case of disappearing dragons, he ends up locked in a dungeon — until the king's sister helps him escape! A fantasy adventure with a touch of mystery.
---

Free on Kindle Unlimited (buy all nine ebooks for $9.99 for a limited time)
The Micah Reed Chronological Edition Omnibus
By Jim Heskett
2,101 pages
Thrillers: Just released today! Here's a compendium that's like nine deals in one: Nine thriller books for one low price. This limited-time special from talented author Jim Heskett offers nonstop edge-of-your seat action. He's on the run and the cartel is closing in … how long can Micah Reed look over his shoulder?
---

Free on Kindle for a limited time
The Keys to My Diary: Marina
By Ann Omasta
190 pages
#1 free title in Contemporary Romance in the Kindle Store
Contemporary romance: Free from her cheating ex-husband, Marina begins keeping a diary of her life in the Florida Keys. Will a fling with a sexy stranger on a motorbike spice up her daily entries — and provide the cure for her broken heart?
Indie Film Watch

Kaitlyn Dever as Amy and Beanie Feldstein as Molly in "Booksmart" (2019).
Booksmart
On the eve of their high school graduation, two academic superstars and best friends realize they should have worked less and played more. Determined not to fall short of their peers, the girls try to cram four years of fun into one night. Olivia Wilde's feature directorial debut is a "slick, unpredictable romp" and "the best comedy of its kind since 'Superbad,'" writes IndieWire.
Now available on Netflix and other streaming and DVD services.
Disclaimer: I receive no compensation for books I recommend in this or any other roundup.
---