This week Best of Indie spotlights free and discounted page-turners featuring women sleuths, a pair of hot romances, a cookbook to help you shed those extra pounds and more.
All titles range from free to $1.99. And in our indie film of the week, Paul Giamatti wants to have a baby.
This week's top curated picks:
Indie ebook spotlight
Click an image to go to its Amazon page. (Note: Kindle ebooks can be read on any mobile device through the free Kindle app.)

Free on Kindle for a limited time ($14.75 print; $14.95 audiobook)
Hostile Witness
By Rebecca Forster
Self-published
420 pages
Legal thriller: When 16-year-old Hannah Sheraton is arrested for the murder of her stepgrandfather, the chief justice of the California Supreme court, her distraught mother turns to an old college roommate, Josie Baylor-Bates, for help. As Josie digs into the case, she realizes that politics, the law and family relationships create a combustible and dangerous situation.
---

$1.99 cents on Kindle for a limited time ($9.99 print; $14.95 audiobook)
A Merciful Truth
By Kendra Elliot
Montlake Romance (Amazon's romance imprint)
322 pages
Women sleuths: Raised by a family of survivalists, FBI agent Mercy Kilpatrick finds herself caught up in an investigation into the murder of two sheriff's deputies in Oregon. It's not long before she hears rumors of the area's growing antigovernment militia movement.
Top ebook deals of the week

$1.99 cents on Kindle for a limited time ($6.99 print; $14.95 audiobook)
My Sister's Grave
By Robert Dugoni
Publisher: Thomas & Mercer (Amazon's imprint)
402 pages
Women sleuths: The first book in the series that has garnered millions of readers across the globe. Tracy Crosswhite has spent 20 years questioning the facts surrounding her sister Sarah's disappearance and the murder trial that followed. She doesn't believe that the man convicted of the murder is the guilty party. As she searches for the real killer, she unearths dark secrets that will forever change her relationship to her past—and open the door to deadly danger.
---

Free on Kindle for a limited time  
The Billionaire Bargain
By Lila Monroe
Self-published
309 pages
Romantic comedy: Cleaning up after billionaire Grant Devlin is a full-time job, but his latest mess may be more than PR agent Lacey Newman can handle. To restore his image, she convinces him to pretend to date a nice, normal girl — only Lacey never expected Grant to pick her.
---

Free on Kindle for a limited time
The Girl In Between
By Laekan Zea Kemp
Self-published
370 pages
#1 Free in Paranormal romance in the Kindle Store
Paranormal romance: Bryn Reyes has Sleeping Beauty syndrome — her naps can last for weeks or longer. But the mysterious boy who's appeared in the land of her dreams may hold the key to reclaiming her waking life. This popular fantasy has more than 2,100 five-star Goodreads ratings.
---

Free on Kindle for a limited time ($12.99 print)
Malevolent
By E.H. Reinhard
Self-published
339 pages
#2 Free in Police Procedurals in the Kindle Store
Police procedural: When two brutal murders point toward one killer, it's up to lieutenant Carl Kane to hunt down the culprit. But the case becomes personal when Carl is targeted — and everyone around him is suddenly in danger. This gritty procedural has nearly 600 five-star Amazon reviews.
---

Free on Kindle for a limited time ($9.42 print)
Last Breath
By Tom Barber
Self-published
402 pages
#1 Free in Suspense Action Fiction in the Kindle Store
Thriller: NYPD counterterrorism detective Sam Archer arrives in Washington, DC, as a sniper causes havoc in the city. Can he take down this skilled, unscrupulous opponent — who may be a fellow cop?
---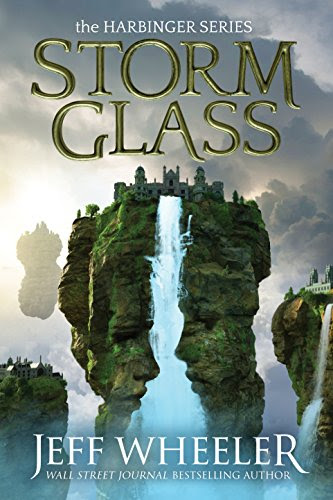 $1.99 on Kindle for a limited time ($7.99 print; $14.95)
Storm Glass
By Jeff Wheeler
Publisher: 47 North (Amazon's sci-fi imprint)
353 pages
#1 Free in Young Adult Fantasy in the Kindle Store
Fantasy: In this richly textured novel for young adults, Cettie Pratt is a waif doomed to the world below, until an admiral attempts to adopt her. But in her new home in the clouds, not everyone treats her as one of the family.
---

99 cents on Kindle for a limited time 
Eat This, Burn Fat: 17 Wickedly Simple Meals to Build Muscle, Burn Fat, and Get Ripped
By Raza Imam
Self-published
72 pages
Cookbook: Discover 17 simple recipes that will help you to burn fat, build muscle and get lean in less than 15 minutes, according to the author.
---

99 cents on Kindle until Saturday at midnight
Hellfire
By John Ellsworth
Self-published
325 pages
Thriller: A Syrian wedding party is mistakenly incinerated by a Hellfire missile fired from an American drone. Many are killed, but one survivor turns to an American lawyer for help in bringing the responsible parties to justice. The survivor is the bride-to-be and she is furious.
Indie Film Watch

Paul Giamatti and Kathryn Hahn star in "Private Life."
Private Life
Indie filmmaker Tamara Jenkins' "Private Life" stars Paul Giamatti and Kathryn Hahn as Richard and Rachel Grimes, a pair of Lower East Side literary types who've been trying to have a baby for years. Things get complicated when their stray 25-year-old niece tries to help them start a family. IndieWire calls the film "hilarious and crushingly honest."
Coming soon to Netflix and other streaming and DVD services
Note on ethics
Best of Indie accepts no payments for placement on our site. All titles are chosen independently by our editorial team.
---