This week we spotlight a page-turner of a legal thriller, a stormy technothriller, an under-the-radar indie family drama and the answer to the question: What happens if you woke up and had the ability to tell the fate of anyone you touch?
All titles range from free to $1.99.
This week's top curated picks:
Indie ebook spotlight
Click an image to go to its Amazon page. (Note: Kindle ebooks can be read on any mobile device through the free Kindle app.)

99 cents on Kindle for a limited time ($17.99 to $21.97 print)
Escape Velocity
By Susan Wolfe
Publisher: Steelkilt Press (the author's imprint)
432 pages
Legal thriller: Georgia always denounced her father's con man ways — but when the company she works for gets into hot water, she'll draw upon her family's unusual skills to face an ever-deepening mystery. This is the second novel from the talented Palo Alto-based author after her debut novel won the Edgar Award.
---

99 cents on Kindle for a limited time ($16-$25 print)
Category Five
By Philip Donlay
Publisher: Oceanview Publishing (a boutique publisher)
325 pages
Technothriller: In the Atlantic Ocean, hurricane Helena is gathering strength, becoming the most powerful storm in recorded history. As Helena bears down on Bermuda, Donovan Nash, along with other members of the scientific research organization Eco-Watch, are called to fly in and extract key government people who have been studying Helena. But the routine mission soon turns deadly.
---
Do you like to listen to your books?
You're the first to know: The Audible version of "Biohack" has just been released. See why "Biohack" was a Hot New Release in five different Amazon categories and has already racked up 65 five-star reviews:
---
Top ebook deals of the week

Free on Kindle for a limited time ($12.99 print)
The Gift
By Margaret McHeyzer
Self-published
194 pages
#1 in Teen & Young Adult in Kindle Store
Paranormal/Young adult: Lexi awakens from an emergency operation with the incredible ability to glimpse the fate of anyone she touches. Pursued by sinister forces, Lexi grapples with a dangerous question: Can she change the future she sees?
---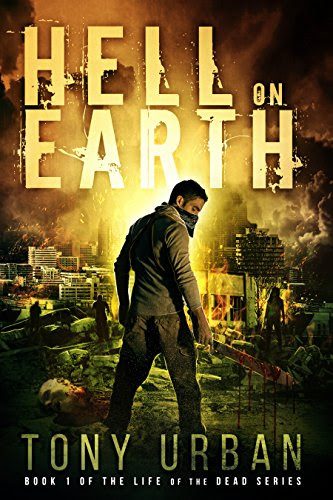 Free on Kindle for a limited time ($12.99 print)
Hell on Earth
By Tony Urban
Publisher: Packanack Publishing (the author's imprint)
247 pages
#1 in free Sci-fi Action & Adventure in Kindle Store
Science fiction: When a waking nightmare sweeps the planet, the remaining humans must decide how far they'll go in the bloody fight to survive. An arresting work of apocalyptic horror.
---

99 cents on Kindle for a limited time ($10.99 print)
Reversion
By J. Thorn
Self-published
272 pages
Fantasy: With a noose around his neck and no reason to hope, Samuel is left in a terrifying forest of the dead, with wolves, ghosts, and a menacing cloud that creeps closer and closer. Can he and his companions survive?
---

$1.99 on Kindle for a limited time ($8.99 print)
The Dead Key
By D.M. Pulley
Thomas & Mercer (Amazon imprint)
467 pages
#1 Historical Thriller and Financial Thriller in Kindle Store
Thriller: Two women, two decades apart, stumble upon a ghastly secret buried deep in the vaults of a bank. Publishers Weekly calls it "fast-paced, faultlessly written, and engaging," and it has more than 5,000 five-star Amazon reviews.
---

99 cents on Kindle for a limited time
Ketogenic Diet Secrets
By Raza Imam
Self-published
125 pages
Cookbook: Discover the secrets of the ketogenic diet. This concise guide tells you who the ketogenic diet is for, why it's so popular and exactly how to use it to burn fat—plus more than 50 quick and easy recipes to get you started.
---

Free on Kindle for a limited time ($14.99 print)
Just Evil
By Vickie McKeehan
Publisher: Beachdevils Press (the author's imprint)
404 pages
Crime fiction: Kit is the prime suspect in her mother's murder, while family friend Jake was blamed for his wife's death two years prior. Drawn to each other, they find a strange and impossible link between the two killings. An absorbing psychological thriller with more than 450 five-star Amazon reviews.
---

99 cents on Kindle for a limited time ($14.99 print)
Night Goddess
By Araya Evermore
Publisher: StarFire Epic Fantasy
358 pages
Fantasy: As darkness descends, Issa is called on by the night goddess to fulfill an ancient prophecy. Along with shapeshifting Dragon Lord Asaph, she must use her newly discovered powers to save the world from evil.
Indie Film Watch

Andie MacDowell in "Love After Love."
Love After Love
Following the death of their father, two sons deal with the trials of their own lives while watching their mother explore new beginnings of her own in Russell Harbaugh's stunning drama about loss. The film "bristles with an honesty that few films about grief have ever found the strength to show," writes IndieWire. Metascore of 84 on metacritic.com.
In limited theatrical release; available July 24 on Netflix.