This week Best of Indie spotlights several Kindle ebook deals: a fast-paced thriller from A.C. Fuller, a horror tale, some humorous chick lit to balance that out, romance and fantasy titles – all of them free – as well as pre-order sales from three authors who are at the top of their game.
And our Indie Film of the Week is Jordan Peele's follow-up to his Oscar winner "Get Out."
This week's top curated picks:
Indie ebook spotlight
Note: Kindle ebooks can be read on any mobile device; just use the free Kindle app.

Free on Kindle for a limited time ($13.95 print, $14.95 audiobook)
The Anonymous Source
By A.C. Fuller
358 pages
#1 free in Crime Thrillers in the Kindle Store
Thriller: Investigative journalist Alex Vane uncovers staggering information that could be his biggest scoop yet… or the story that gets him killed. This sharp thriller "evokes comparisons to John Grisham's finest," writes best-selling author Robert Dugoni.
---

Free on Kindle for a limited time ($11.99 print, $14.95 audiobook)
My Dead World
By Jacqueline Druga
290 pages
#1 free in Horror in the Kindle Store
Horror: This nightmarish tale has more than 600 five-star Goodreads ratings. With a lethal virus sweeping the globe, a group of survivors huddles in a remote mountain cabin, their lives dependent on staying completely cut off from the outside world.
Top ebook deals of the week

99 cents on Kindle for a limited time ($14.99 paperback)
The Happy Home for Ladies
By Lilly Bartlett
324 pages
#1 free in General Humorous Fiction in the Kindle Store
Chick lit: When the owner of Friendship House threatens to turn the senior living home coed, chef Phoebe teams up with three residents to save their all-female enclave. A laugh-out-loud story of "satisfying self-discovery and a sweet journey to love," says Publishers Weekly.
---

Free on Kindle for a limited time  ($14.99 print)
Hey You, Pretty Face
By Linda Coles
334 pages
#1 free title in the Kindle Store
Crime fiction: Suspecting a connection between two recent cases — an infant who was abandoned and the kidnapping of three girls — Det. Jack Rutherford traces a series of leads to a sinister crime ring.
---
On occasion I'll spotlight new and past works by top-flight authors I know. Will Patching, Steven Moore and David Berens have produced several critically acclaimed crime thrillers in recent years. Here are their latest:

$4.99 preorder price on Kindle, publishes Aug. 19 ($9.99 print)
Atlantis Storm
By Steven Moore and Dave Berens
240 pages
Tropical thriller: An enigmatic visitor. A mysterious artifact. A map revealing not all myths are fake. The hard-luck Ryan Bodean and eternal optimist Megan Simons now face a death-defying search for the fabled lost city of Atlantis. But when a dangerous cult of Atlantean fanatics stop at nothing to keep their ancient secret, will it only be the legendary city that disappears beneath the sea?
Grab the book at the pre-order price here.
---

$2.99 preorder price on Kindle, publishes Aug. 24
The Widow: A British Police Thriller
By Will Patching
323 pages
British police procedural: A brutally murdered husband. An abused wife who wanted him gone for good. Did the wealthy widow arrange his death — and can a disgraced detective discover the truth? Find out in The Widow, the latest gripping, gritty British crime thriller from this award-winning author. First in a new series.
"Will Patching goes above and beyond with the suspense, drama and psychological terror in this amazing story," writes one Goodreads reviewer.
Grab the book at the pre-order price here.
---

Free on Kindle for a limited time ($9.99 print)
Tumble into Love
By J.H. Croix
248 pages
#1 free in Contemporary Romance in the Kindle Store
Romance: When sexy cop Darren saves Risa after a car crash, their sensual attraction turns both their lives upside down. A USA Today bestselling author serves up a sizzling contemporary romance.
---

Free on Kindle for a limited time ($15.99 print)
Moonstone Conspiracy
By Elizabeth Ellen Carter
313 pages
#1 free in Regency Historical Romance in the Kindle Store
Historical romance: When English spy Daniel Ridgeway approaches Lady Abigail Houghall at her card table and threatens to expose her secret, Abigail is forced to comply with the demands of the irritating but handsome man. As she becomes entangled in his mysterious world, she finds it difficult to resist their growing attraction.
---

Free on Kindle for a limited time ($7.99 print, $14.95 audiobook)
Hidden Blade
By Pippa DaCosta
190 pages
#1 free in Psychic Suspense and Superhero Fantasy in the Kindle Store
Fantasy: In a New York rife with paranormal activity, immortal adventurer Ace Dante grudgingly undertakes a mission for his ex — only to stumble into a conflict between two powerful, ancient gods.
---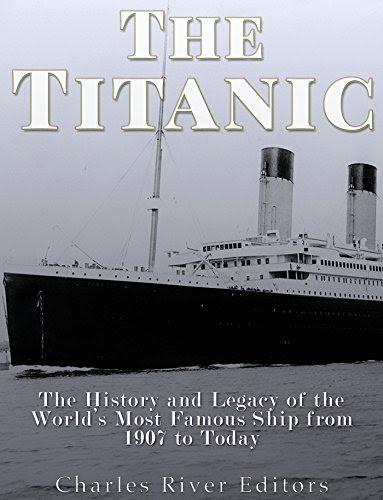 Free on Kindle for a limited time ($14.99 print)
The Titanic
By Charles River Editors
318 pages
#1 free in 20th Century History in the Kindle Store
Nonfiction (history): How did a ship built to exemplify top-notch technology and luxury become the center of an infamous tragedy? Featuring firsthand accounts, this comprehensive book details the construction and fate of the Titanic.
---
Indie Film Watch

Evan Alex and Shahadi Wright Joseph in "Us" (2019).
Us
Jordan Peele's 2017 debut "Get Out" was a landmark in African-American storytelling, broke box-office records and served as a wakeup call to the film industry. In his second outing as writer-director, he tackles the nation's fractured identity in a story about a family's serene beach vacation that turns to chaos when their doppelgängers appear and begin to terrorize them. The film "gives audiences exactly what they want by delivering what they least expect," says IndieWire.
Coming to Netflix and other streaming and DVD services.
---