It's a big week for thrillers, women protagonists, fantasy and romance, whether in 2019 or 1300s England.
All titles below range in price from free to 99 cents, except for Scott Pratt's best-selling legal drama. And our Indie Film of the Week is a gripping new drama starring Penelope Cruz and Javier Bardem.
Indie ebook spotlight
Click an image to go to its Amazon page. (Note: Kindle ebooks can be read on any mobile device through the free Kindle app.)

Free on Kindle for a limited time ($14.95 print, $12.99 audiobook)
White Russian
By J.A. Konrath
Self-published
398 pages
#1 in Police Procedurals and Women Sleuths in the Kindle Store
Crime fiction: Former cop Jack abandons her peaceful suburban life when it surfaces that despicable men who were supposed to be dead are very much alive — and an old friend is in need of rescuing. A gritty, propulsive thriller.
---

Free on Kindle Unlimited, $2.99 on Kindle until Sunday at midnight ($9.75 print, $14.95 audiobook)
Injustice for All
By Scott Pratt
Publisher: Phoenix Flying (the author's imprint)
393 pages
Legal thriller: Part of the 2 million copy bestselling series. A criminal court judge is found hanging from a tree. A young employee from the district attorney's office goes missing. Joe Dillard finds himself in the middle of two volatile mysteries.  Now with 3,000 mostly five-star customer reviews.
Top ebook deals of the week

99 cents on Kindle until midnight Saturday ($10.99 print, $15.30 audiobook)
The Disappeared
By Sibel Hodge
Publisher: Bloodhound Books (a boutique publisher)
320 pages
Women's detective fiction: On a flight from Africa to England, Dr. Mason Palmer is  killed when his aircraft crashes in dense bushland. But is he really alive? His widow Nicole travels to Africa to find out … but everyone she turns to for answers ends up dead.
---

Free on Kindle for a limited time ($11.99 print)
Suitcase Girl
By Ty Hutchinson
Self-published
344 pages
#1 in Assassination Thrillers in the Kindle Store
Thriller: When a lone little girl is abandoned outside FBI headquarters, agent Abby Kane's investigation points to a human trafficking ring — and something even worse. A disturbing crime thriller.
---

Free on Kindle for a limited time ($14.95 print)
By Degrees
By Elle Casey
Self-published
378 pages
#1 in New Adult & College Romance in the Kindle Store
Romance: Career-driven Scarlett has always kept things professional. But her sizzling chemistry with her bad-boy client Tarin might make her job a little more complicated. From a New York Times bestselling author.
---

Free on Kindle for a limited time ($9.99 print, $14.95 audiobook)
Frey
By Melissa Wright
Self-published
262 pages
#1 in Sword & Sorcery and Epic Fantasy in the Kindle Store
Fantasy: After her mother's death, Frey is sent to live in a small village — where she's accused of using dark magic. Forced to flee with a ragtag gang of strangers, she soon discovers incredible new powers. "Frey" has more than 1,200 five-star ratings on Goodreads.
---

Free on Kindle for a limited time ($13.99 print)
Alice
By J.M. Sullivan
Publisher: Bleeding Ink Publishing (a small publisher)
288 pages
#1 in Historical World War II Fiction in the Kindle Store
Young adult: The Momerath virus is spreading. If 16-year-old Alice can't find a cure, her sister will succumb to its "un-deadly" effects. Her desperate search leads her down the rabbit hole and into perilous Wanderland in this dystopian twist on Lewis Carroll's classic.
---

99 cents on Kindle for a limited time ($14.95 print)
Candy Savant
By A.L. Hawke
Self-published
298 pages
Science fiction: Geneticist Candice Harlow has just graduated from a prestigious Savant program. Unfortunately, she's arranged to work with Elise Jackson, a crazed ruler seemingly more interested in Candy's looks than her scientific aptitude. When their genesis is formed, the creation is shunned by their all-female society, leading to peril. A 2019 release.
---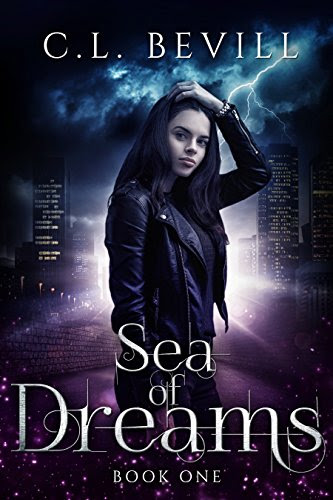 Free on Kindle for a limited time
Sea of Dreams
By C.L. Bevill
Self-published
256 pages
Young adult: Sophie wakes up to a changed world where people have vanished, technology has ceased working, and fantastical creatures roam. Joining other survivors, she must fight for her life — and embrace her role as protector in this new magical realm.
---

Free on Kindle for a limited time ($16.61 print)
Riversnow
By Tess Thompson
Self-published
186 pages
#1 in Contemporary Romance Fiction in the Kindle Store
Romance: While working in a small Oregon town, Stefan falls for his beautiful and mysterious co-worker Genevieve. But can he convince her to fully open her heart to him? From a USA Today bestselling author.
---

99 cents on Kindle for a limited time ($10.99 print)
Knight Moves
By Cynthia Luhrs
Self-published
270 pages
Time-travel romance: When her sister vanished without a trace, Melinda traveled to England to find out what happened. She never dreamed she'd end up in 1300s England where she'd meet the knight of her dreams. A clean, light-hearted romance.
---

99 cents on Kindle until 8 pm ET Monday ($11.99 print)
House of Scarabs
By Hazel Longuet
Publisher: Novel Experience (the author's imprint)
372 pages
Occult: Three strangers are bound by an ancient Egyptian prophecy. This fast-paced paranormal thriller takes you from England to the dunes of Egypt. Ellie, Ben and Gerhard strive to complete a mythical quest that puts them in the crosshairs of assassins determined to ensure the trio fails. Will they survive & uncover the gods' secrets?
---

99 cents on Kindle for a limited time  
Begin Your Biz in 15 Minutes/Day: Your Freelancing Tips Starter Kit
By Sagan Morrow
Self-published
89 pages
Nonfiction: You'd like the freedom and flexibility of being a freelancer. But you feel overwhelmed and crunched for time. Who has time to start a business? This step-by-step guide shares a year's worth of actionable tips to start your business in just 15 minutes per day.
Indie Film Watch

Penelope Cruz and Javier Bardem in "Everybody Knows."
Everybody Knows
Penelope Cruz and Javier Bardem star in this domestic drama from indie filmmaker Asghar Farhadi. Shortly after Laura (Cruz) arrives from Argentina to visit to her family at their Spanish estate for a wedding, her teen daughter Irene (Carla Campra) vanishes from her room in the middle of the night. That leaves a frantic Laura at the mercy of Paco (Bardem). "Farhadi pushes the material into Agatha Christie territory — everyone's a suspect, and everyone suspects someone else," IndieWire writes.
Releases May 7 on Netflix and other streaming and DVD services
---