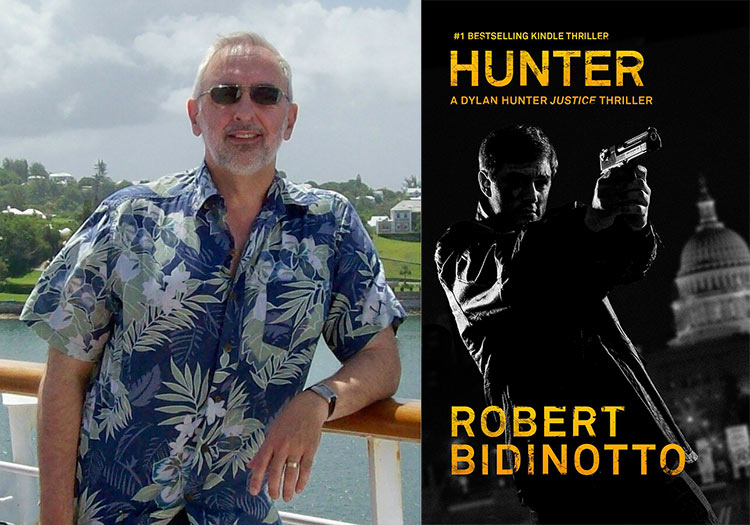 Author Robert Bidinotto and the cover of his vigilante-hero thriller "Hunter."
For our next Indie Author Spotlight feature, I chat with indie thriller author Robert Bidinotto. In 2011 Bidinotto introduced the world to vigilante hero Dylan Hunter in his debut novel, Hunter — a #1 Kindle bestseller in Mysteries & Thrillers and a Wall Street Journal Top 10 Fiction eBook. The first sequel, Bad Deeds, was named Conservative Libertarian Fiction Alliance 2014 Book of the Year. Dylan Hunter's suspenseful adventures continue in Winner Takes All and in the forthcoming Choker.
INDIE AUTHOR SPOTLIGHT
Q&As with top independent authors
Robert turned to writing fiction late, at age 60, after an award-winning career as an investigative journalist, essayist, reviewer and editor for many publications. He also has appeared as a guest on scores of TV and radio talk shows and as a popular speaker before campus, business and social groups across North America and Europe. He lives with his musician wife on the Chesapeake Bay in Maryland. 
Tell us about your background and how you found your way into fiction writing.
I was raised in western Pennsylvania. From early childhood I loved to read, and I soon discovered I had a talent for writing. I was the sort of free spirit who would turn school essay assignments, like "how I spent my summer vacation," into science-fiction stories about being abducted by a UFO.
As a teen, I became fascinated by current events, and I majored in economics in college. After school, I took up freelance writing for newspapers and little magazines — articles, op-eds, book and movie reviews. That turned into writing high-profile, award-winning investigative articles for Reader's Digest about controversial topics, like crime, homelessness, and the environment. Later, I worked for advocacy nonprofits, writing, speaking and editing.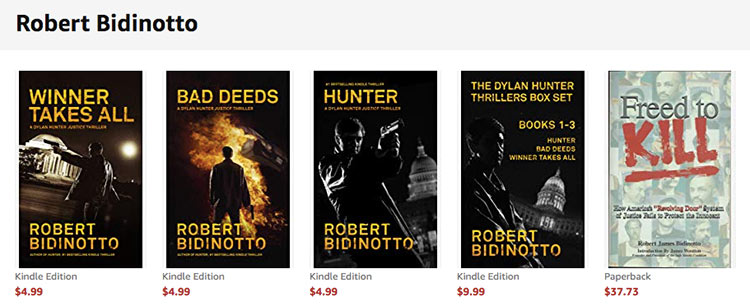 But I always secretly yearned to write fiction. The desire grew from my childhood love of vigilante heroes like The Lone Ranger, Zorro and Batman. Around 2004, I finally began to scribble notes for my own fictional vigilante character.
Four years later, my magazine editor job ended, right in the middle of the recession. I was pushing 60; I had few employment options; I was financially desperate and had nothing to lose. So I gave it a shot, vowing to finish writing my first novel before my 62nd birthday: June 5, 2011.
Late on June 4th, with just one hour to spare, the last page rolled out of my printer. And the unlikely result of that career gamble was that my self-published debut thriller, Hunter, became a big national bestseller, hitting #4 on the Kindle bestseller list.
The archetypal vigilante character goes back centuries, to tales of Robin Hood, Samurai warriors and knights errant.
— Robert Bidinotto
So you turn 70 tomorrow? Happy birthday.
Thanks. I'll be writing.
So what originally captured readers' imaginations with your early books, and how did you build on that?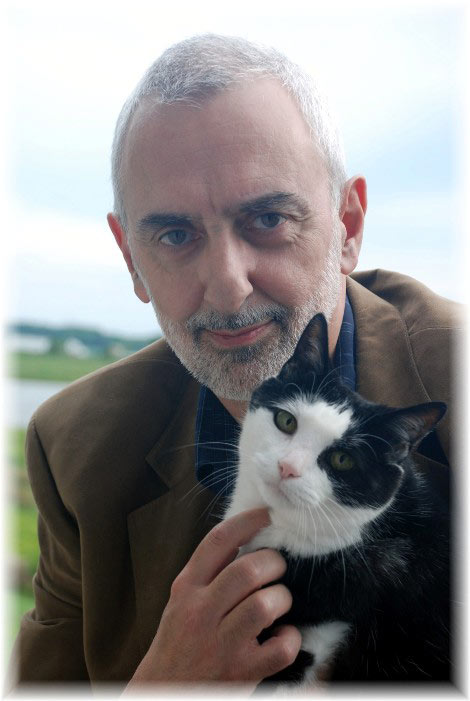 Millions of people feel trapped in a world of rampant injustice. They see vicious predators, the politically powerful and the untouchably wealthy getting away with outrageous crimes — often shielded by a legal system that is either inept or complicit. They feel angry about it, but helpless.
That's why they love fantasy tales about tough, lone-wolf vigilantes who single-handedly battle for justice against the lawless. That archetypal character goes back centuries, to tales of Robin Hood, Samurai warriors and knights errant. Today, he's the hero of thrillers, Westerns, detective fiction and comic books.
My Dylan Hunter hero stands in this timeless tradition. He's a crusading journalist in D.C., with a mysterious past, his own "particular set of skills" and an unquenchable passion for justice. But he's not only a reporter. Using a host of secret aliases, impressive weapons and clever ruses, he rains spectacular acts of vigilante justice down upon sociopathic predators, corrupt political elites — and their enablers and excuse-makers.
But unlike other tough-guy vigilantes, Dylan has some unique traits. He's Ivy-League educated and has forged his own sophisticated code of moral values and political ideas. He's not a psychologically damaged man but a serenely self-confident optimist. And he's extravagantly romantic — a one-woman man, passionately in love with and devoted to his girlfriend, CIA officer Annie Woods.
For male readers, Dylan is the guy they want to be; for female readers, he's the guy they dream of being with. Women also appreciate that unlike many thriller heroes, Dylan is not a cynical "player."
What are your latest titles? Are you sticking with a specific subgenre you're comfortable writing in?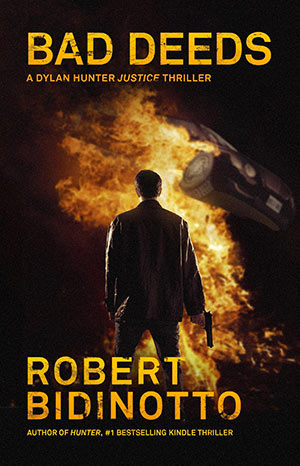 Since the success of Hunter, I've published two sequels, Bad Deeds and Winner Takes All. They touch on the real-life controversies of our time, complicate the lives of Dylan and Annie, and introduce memorable villains and supporting characters. Reader and reviewer responses to the opening trilogy have been extraordinary. I'm working now on No. 4, Choker, aiming for a fall release. I'll stick with writing Dylan Hunter "justice thrillers" as long as readers want to buy them. But if they tire of him, I have other story ideas outside the series that I can develop.
What makes your characters tick?
From seeds planted in his hidden past, Dylan Hunter has become a protective "sheepdog" in a world full of sheep and wolves. His lover, Annie, is similar: She's a CIA security investigator, devoted to protecting the country from security risks.
Her boss, wily CIA veteran Grant Garrett, is a patriot, too, who must constantly battle office politics and Russian moles to complete the Agency's missions. Another popular character is a morbidly obese researcher, a quirky genius nicknamed "Wonk." Wonk contracts with secret government agencies, but moonlights for Dylan, assisting him in investigations and as a supplier of high-tech gadgets. Then there's police detective Sgt. Ed Cronin. Decent and dedicated, Cronin suspects Dylan is responsible for the mounting wave of vigilante assassinations, and he's in hot pursuit — but is also torn by his conflicting commitments to justice versus the law he swore to uphold.
Radiating from this core group is a colorful cast of supporting regulars, among them: Dylan's fetching "girl Friday," Danika Brown; his newspaper's harried editor, Bronowski; and Dylan's private sounding board — his stridently opinionated pet cat, Luna.
Then there's an ever-growing list of some of the nastiest villains you'll never want to meet. Fans love the "poetic justice" Dylan employs to bring down the bad guys.
Tell us a bit about your process. How do you come up with your story ideas and characters? What do you start out with? How long does it take you to write a novel from start to finish?
I start with some hot, controversial theme. I already know what Dylan thinks about the topic: He is smart enough to always agree with me! Then I imagine his polar opposite "type" on that issue and flesh out that character as the main villain. The next step is to imagine a situation that locks them in mortal conflict.
Next, I imagine other characters, both good and bad, who will constitute "variations on the theme." I develop their personalities, backgrounds, conflicts and subplots to spin off from the main theme.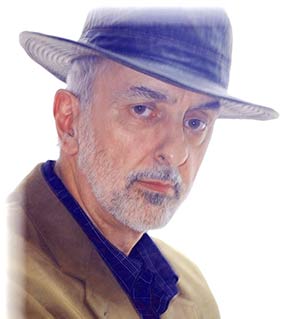 The challenge is to weave all of this, including the subplots, into one tight, integrated story filled with escalating thrills and rising suspense, so that the climax resolves all the elements at once. It's like solving multiple Rubik's Cubes simultaneously, and it takes me forever to work out the plot structures — which I do in meticulous detail, chapter by chapter, before I begin writing.
So far, it's been three years between my books. I'm trying hard to whittle that down.
Writing fiction allows me to share elements of my worldview in ways that are more subtle, more entertaining and I think more persuasive to more people. I call my books 'thrillers for thinkers.'
What do you want to achieve with your fiction?
First and foremost, to give readers what they are paying for: a thrilling rollercoaster ride, filled with action, suspense, romance and indelible characters they won't forget.
But beyond that, I also want to present them a Story World that reflects my own worldview, inhabited by the kinds of heroes I'd love to meet, doing the things I'd love to do, in places I'd love to visit. I have strong views and values, and I used to express them in nonfiction books, articles and speeches. Well, writing fiction allows me to share elements of my worldview in ways that are more subtle, more entertaining and I think more persuasive to more people. I call my books "thrillers for thinkers." But my emphasis is always on the "thriller" aspect.
You were one of the first big success stories of ebook self-publishing. What are you able to do as an indie author that would be closed off to you in the traditional publishing world?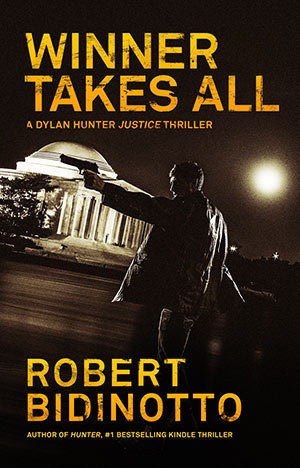 I decided to write Hunter only when self-publishing became a viable alternative to traditional publishing. At my age, I had no time to waste finding an agent, then a publisher — then to wait forever for the book to come out, most likely with indifferent, badly targeted marketing. After I finished writing Hunter, I was able to have it edited, proofread, formatted, then published as an ebook only 17 days later — and the print edition came out only two weeks after that. No publisher could possibly have done that for me.
Besides speed of publication, an indie author faces none of the constraints his traditionally published colleagues must endure. I write whatever I want, and no industry gatekeeper can keep it away from an international audience of readers. I publish at a length, pace, style and genre of my choosing. I select my own covers, write my own promotional copy and execute my own marketing plans, rather than being at the mercy of a publisher's dubious choices. I release my books through outlets and in nations of my own choosing, in whatever formats I wish — ebook, print or audiobook.
Finally, I don't have to share a nickel of my ebook or print earnings with an agent or publisher, who take the lion's share of royalties for themselves. These days, I deal with an agent and publishers only to handle my audiobook and foreign editions, and only as a matter of convenience.
The book publishing world has undergone some radical changes in the past few years. What's been the upshot for readers?
Since the Self-Publishing Revolution, readers now have millions more titles to choose from — many of them as good or better than those released by mainstream publishers. Online retailing, ebooks, audiobooks and print-on-demand technology also offer readers more format options, lightning-fast delivery and far more affordable prices. There's never been a better time to be a reader — or a writer.
Can you mention a few authors whose works you greatly admire, including writers who may be unfamiliar to readers?
I prefer thrillers in the vigilante, crime, detective and spy categories. Among traditionally published authors in these subgenres, my all-time favorites include Stephen Hunter, Lee Child, Brad Thor, Vince Flynn, Daniel Silva, Jack Higgins, Robert Crais, Mark Greaney, Gayle Lynds and Nelson DeMille, plus earlier writers like Robert B. Parker, Mickey Spillane, Alistair MacLean and Donald Hamilton.
Among indie authors, some standouts for me include Stephen England, Ian Graham, Gary Ponzo, Allan Leverone, John Clarkson, Edd Voss and Mark Dawson. Self-publishing hasn't been popular for as long as traditional publishing, so I'm still trying to catch up with stacks of books from new, widely praised indies. Get back to me in another couple of years and I'll give you a much longer list.
How do you interact with your readers and fans? How do they send you feedback?
There's my website, VigilanteAuthor.com, where people can learn all about my Dylan Hunter thrillers. It also houses a big archive of interviews I've conducted with top thriller authors, including many I just named. I interact with fans through my free email newsletter, Bullet Points; you can sign up on my website to receive it. Then there's my Facebook author page. People can also find me on Goodreads. And readers can always email me: [email protected].
Meanwhile, I invite Best of Indie readers to check out Hunter, Bad Deeds and Winner Takes All. Various editions are available on Amazon, Audible, and iTunes — including a Kindle ebook trilogy containing all three titles, on Amazon.
---