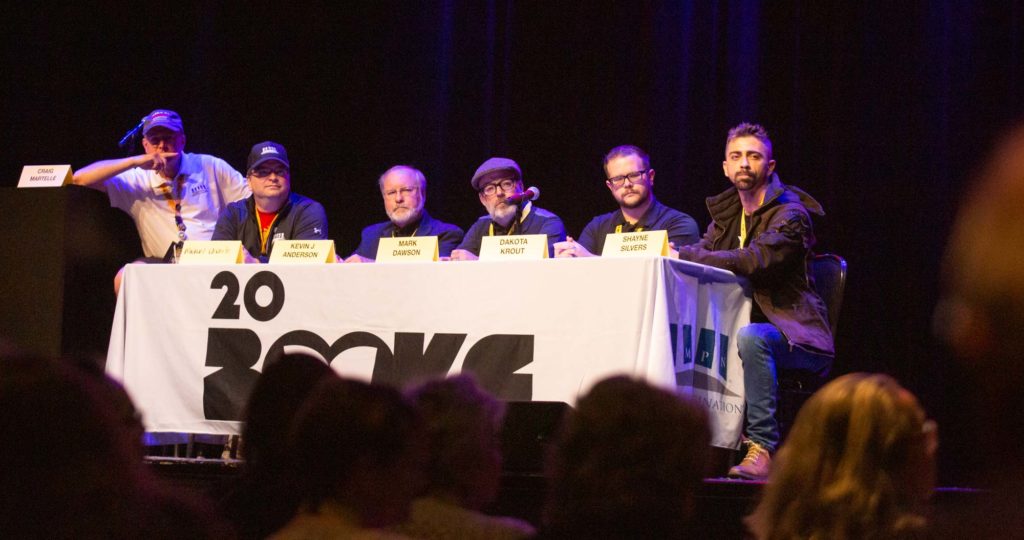 We thought I'd skip the usual rundown of ebook bargains today and share some photos of our experience last week.
We flew to Las Vegas to attend 20Books Vegas, the largest gathering of indie authors in the world. Made some new friends there and got to spend face time with several fellow authors whose books I've read but I hadn't had a chance to meet in real life.
Here's our full photo gallery of photos from the conference.
Is Goodreads still relevant?
But first, a question for you: Do you still spend any time at Goodreads? What do you like or not like about it?
We're working on creating a new hub for book lovers in early 2020 and we're borrowing ideas from multiple sites. Goodreads hasn't really changed in a decade, so what would you like to see in a consumer site for book lovers?
Just comment below. Really appreciate it!


Some YA fantasy authors in their natural element at 20Books.
20Books conference photos
I decided to give in to my inner photographer, so managed to get some nice shots with my Canon 5D, while also taking selfies with my iPhone. See if you've read any of these authors' works.
Have you heard off Mark Dawson? He's a British author who writes spy novels, with earnings that topped $1 million this year. He gave the keynote and held court around the main bar well into the night.
Check out his author page and books on Amazon. Mark's considered one of the top thought leaders in the space, reminding us that there's never been a better time to be a writer.
There's Mark seated next to thriller author Diane Capri (You Don't Know Jack) and post-apocalyptic technothriller author Matthew Mather (CyberStorm.) I got some time to chat with all of them — their books have attracted a wide readership.
Are you a science fiction fan? Jasper T. Scott is one of the new breed of sci-fi authors making a mark in the marketplace.
And couldn't resist this shot of a guide dog with a rad doggie 'do.
One book tip
And before leaving, I wanted to point to one superb new thriller, available for pre-order: Nick Thacker's Cain Conspiracy. It's on sale for the next week at $2.99 before its release on Nov. 30.
---