This week we spotlight a post-apocalyptic and near-future science thriller, a dystopian sci-fi page-turner, a steamy romance I can't tell you much about, a children's picture book and more.
The priciest title in the bunch? 99 cents. Hope that doesn't break the bank.
This week's top curated picks:
Indie ebook spotlight
Click an image to go to its Amazon page. (Note: Kindle ebooks can be read on any device — smartphone, tablet, computer — through the free Kindle app.)

99 cents on Kindle for a limited time ($13.99 print)
Trackers: A Post-Apocalyptic Survival Series
By Nicholas Sansbury Smith
Publisher: Great Wave Ink (the author's imprint)
341 pages
Thriller: The explosive Trackers series is a fast-moving, realistic depiction of what a North Korean EMP attack might look like at a time when the threat has never been more real. Over 100k copies sold and more than 500 5-star reviews on Amazon.
---

Free on Kindle for a limited time (regularly $6.99; $12.99 print)
Mind's Eye
By Douglas E. Richards
Publisher: Paragon Press
362 pages
Sci-fi thriller: Protagonist Nick Hall wakes up bloodied, with no memory and hearing voices in his head. Based on scientific research, this near-future thriller comes to you from the NY Times bestselling author whose books have sold over a million copies.
Top ebook deals of the week

Free on Kindle for a limited time (regularly $5.99; $11.99 print)
The Woodlands
By Lauren Nicolle Taylor
Publisher: Clean Teen Publishing
278 pages
Sci-fi: As the last livable place on Earth, the Woodlands is the only home Rosa and Joseph have ever known. But now they need to escape — or Rosa will be trapped forever in a horrific government program. A dystopian page-turner with more than 850 five-star ratings on Goodreads.
---

Free on Kindle for a limited time (regularly $6.99)
Explicit
By Roxy Sloane
Self-published
277 pages
Steamy romance: I can't personally vouch for this title because Amazon declined to offer a Look Inside at its contents. Hmmm. Bestselling novelist Jackson Ford and his irresistible new editor, Ellie Parker, can't agree on a thing except for their intense attraction to each other.
---

99 cents on Kindle for a llimited time ($12.99 print)
Breakwater
By Catherine Jones Payne
Publisher: Fathom Ink Press
242 pages
Fantasy: Mermaids. Murder. Mayhem. Seventeen-year-old Jade is recently engaged to a handsome soldier and about to choose her own career. But then she witnesses a murder.
---

Free on Kindle for a limited time ($13.99 print)
Exodus
By James Holt
Self-published
289 pages
Sci-fi: By 2072, Earth is dying, and the human race is on the brink of extinction. Only a select few people will be chosen to carry on the species — and the competition is deadly.
---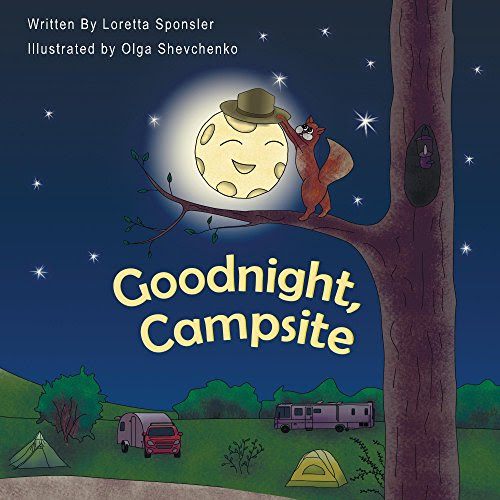 Free on Kindle for a limited time ($9.95 print)
Goodnight, Campsite
By Loretta Sponsler and Olga Shevchenko
Self-published
30 pages
Children's book: With colorful illustrations and a rhyming story, this engaging picture book is the perfect way to introduce young readers to the beauty of nature.
---

99 cents on Kindle for a limited time ($16.95 print)
Your Journey to Success: How to Accept the Answers You Discover Along the Way  
By Kenny Weiss
Publisher: eBookIt.com
162 pages
Nonfiction: We've all read success books, but when we go to execute the advice, a feeling comes up that stops us from taking the steps to make our lives better. This book promises to give you the skills to help you achieve your personal and professional goals.
---

99 cents on Kindle for a limited time ($16.99 print)
The Haunting of Blackwood House
By Darcy Coates
Publisher: Black Owl Books (the author's imprint)
358 pages
#1 bestseller in Supernatural Occult in the Kindle store
Supernatural: When Mara buys Blackwood House, she's warned about its supernatural activity. But ghosts aren't real… are they?
Indie Film Watch

Noël Wells in "Mr. Roosevelt." (Courtesy of Paladin)
Mr. Roosevelt
After runs on "SNL" and "Master of None," Noël Wells scores big as the writer, director and star of this offbeat comedy. "Mr. Roosevelt" is the name of a beloved cat whose hospitalization prompts Wells's comedian character to travel from LA to her former home in Austin, Texas, where her ex-boyfriend and his new girlfriend  have been taking care of it. It's pretty funny—but also gets serious about the business of making people laugh.
Available on Netflix