A Q&A with the author of dystopian sci-fi thrillers
For our second Indie Author Spotlight feature, we interviewed Nicholas Sansbury Smith, the author of several well-known dystopian sci-fi thriller series, including Hell Divers, the Extinction Cycle and Orbs. Check out Nicholas's author website, Facebook fan page and author page on Amazon.
INDIE AUTHOR SPOTLIGHT
Q&As with top independent authors
Tell us about how you got started in book writing. You've written for Hachette, so did there come a point that started you down the indie path?
I actually started as an indie. Here's a very condensed version of my story…
I started writing for fun and self published a book in 2013. It didn't do all that great and I got serious about marketing for my next book that ended up being the Orbs series. Quickly into the launch, Orbs 1 became a #1 bestseller on Amazon in multiple categories, selling 30k copies in a few months. I started hearing from agents and traditional publishers interested in picking up the rights. Long story short, I landed a fantastic agent. He in turn got me an audio deal with Audible and a publishing contract with Simon and Schuster for three Orbs books and two short stories.
While those books were coming out the traditional route, I wrote the Extinction Cycle and decided to return to self publishing. The Extinction Cycle did even better than Orbs, selling 350k copies in ebook and audio between 2015 and 2017. At the end of 2016, Orbit/Hachette approached my agent about buying the series and putting them into the mass market. During this time I also began working with Blackstone Publishing (audio publisher of the ECycle) on a new series for ebook/print/audio called Hell Divers. I also wrote the Trackers series and self published four books in 2017. In early 2018 I got the rights back to Orbs from S&S and self published those books on Amazon to coincide with the release of book 4. I also just signed a six-book deal with Blackstone for two more Hell Divers books and two new intellectual properties.
It's all been a whirlwind over the past five years. I've sold over a million books, had a series optioned for film and expanded into the German market in all formats, including audio. I'm convinced hybrid publishing is the best way to go for me. I also recommend this to my marketing clients.
Traditional and indie thriller authors both try to achieve certain things in their craft: a riveting storyline, compelling characters, high-stakes outcomes, clean, no-nonsense writing. Tell us about your process. How do you come up with your plot ideas and characters? How long does it take for the first draft and then the revisions? Do you use beta readers? An editor?
I've never had a shortage of ideas but I do talk to my agent before I decide to write a story to make sure he agrees there is a market for that idea. I wouldn't exactly call that writing to market, but I do research what's popular before I decide to pursue an idea. Once that's complete, I outline the story in detail, creating a roadmap of the plot and character sheets. This process has really helped me increase my output and keeps me focused. Typically it takes me two months to write a book and another month to edit for an indie release. Tradish is much longer, though.
For my indie books, I have a team consisting of a content editor, proofreaders (two), beta-readers (5-10), multiple cover artists and also a team of readers who help me promote these books. On the tradish side, I get the benefits of a publisher, which includes all of those things plus a publicist and marketing time.
Back to editing. Anyone who's serious about writing needs more than one editor before they publish. There are a ton of talented authors and great books on Amazon now. You have to have a great cover, great editing and a good story if you want to have any sort of success.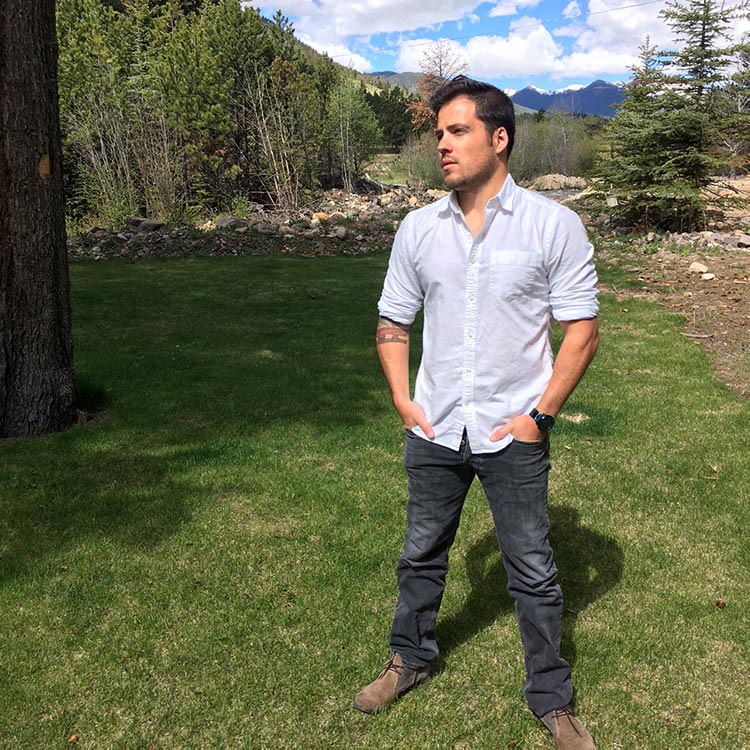 It's all been a whirlwind over the past five years. I've sold over a million books and had a series optioned for film ...
— Nicholas Sansbury Smith
The Trackers, Orbs and Hell Divers series have an avid following. Why did you choose the dystopian sci-fi thriller genre? Are you focused on awards or selling film rights? Or is a happy fan base enough?
Since I was a kid, I've always had a fascination with the post-apocalyptic genre. When I started writing, I decided to tell stories that I would want to read, and it's worked out pretty well so far. My background at Homeland Security and Emergency Management in disaster mitigation helped a lot when I did make the leap to writing full-time. I was able to use that experience and knowledge to craft unique stories. My goal is always to try and put a spin on the genre. In Orbs, I used a different type of abduction that proved to be a really unique premise. Hell Divers also had a new premise, and the Extinction Cycle used real science to describe a zombie outbreak, which is what readers seemed to enjoy. Trackers has a Native American spin to it, and I was able to reach a new audience using Cherokee folklore.
I've been lucky to build a pretty good following and I've also been lucky to win some awards and have the film rights sell for Hell Divers. The series also became an Audible best of science fiction and editor's pick in 2016. That same year Hell Divers won the Indie Forward Review Gold for best science fiction book. While all of this is great, my main goal is to entertain readers and pursue my love of the craft full-time.
What kind of following have you built up over the years, and how did you go about it? What kind of relationship do you have with your fans, and where do you interact with them?
I've been called one of the most engaging online authors in the indie community by spending so much time online with my readers. A few years back, I started a street team, and they have really helped during my book launches. I use Facebook and a mailing list to reach these people mostly. Those are several of the ways I've built my brand, but I've also focused on keeping my message very positive. I love working with other authors and networking has helped me reach new readers, and I've also been able to bring my readers new books from my author friends and colleagues.
You're one of the leading lights of the indie author wave. What are some of the advantages of self-publishing over signing with a Big Five publishing house when it comes to creative freedom, marketing or business/sales? What's the secret of your own success?
Hard work is the number one key to success, in my opinion. Writing full-length books that I pour my heart into is the second part of this recipe. The third part is having a business mind and developing a model that works.
You absolutely have to be an entrepreneur in publishing. Writing a good book is a great start, but if you indie publish, you have to know how to market it. Even if you sign with a big 5 like I have, you still have to market you work. Very rarely do authors have the luxury of not marketing these days. The publishing landscape has changed dramatically, giving a major advantage to authors who understand Amazon especially. The other thing is branching out beyond just ebooks. The audiobook market is growing and will continue to do so. There are also foreign markets to penetrate. Amazon is huge, but it's not the only thing available.
There are a lot of marketing companies and authors offering consulting these days. I do some of that on the side, but I take a different approach. My work is all one on one where I build custom plans for authors. I only take on a few clients a month so I can focus on helping them to the best of my abilities.
As the publishing landscape continues to change, it's important authors research and watch what's happening so they can best adapt. I've been in the trenches of indie and tradish publishing for a while now, and I love sharing my experiences with others.
Thanks for the interview!
---