This week we go heavy on the fantasy with a supernatural thriller set in Victorian London, a young adult novel that will remind you of "The Hunger Games" and the latest best-seller from thriller author David Archer.
All titles range from free to 99 cents. Plus, Spike Lee returns to form with "BlacKkKlansman."
This week's top curated picks:
Indie ebook spotlight
Click an image to go to its Amazon page. (Note: Kindle ebooks can be read on any mobile device through the free Kindle app.)
Free on Kindle for a limited time ($12.99 print, $17.95 audiobook)
The Watchmaker's Daughter
By C.J. Archer
Self-published
302 pages
Fantasy: After her father's death, India takes a job with a wealthy, secretive man who possesses a watch imbued with unimaginable power. Set in Victorian London, the supernatural thriller has more than 1,400 five-star Goodreads ratings.

Free on Kindle for a limited time ($11.99 print)
Blackwaters
By Robin Mahle
Self-published
314 pages
#1 Free in the Kindle Store
Suspense: With her FBI team embroiled in conflict, rookie agent Kate must investigate the Blackwater killer — a ruthless murderer who leaves victims in the murky rivers of northern Florida.
Top ebook deals of the week

99 cents on Kindle until Thursday at midnight ($13.99 print)
Configured
By Jenetta Penner
Torment Publishing (a young adult fiction publisher)
368 pages
Young adult: There will come a day… when love will mark you as a traitor. Fans of Divergent, Hunger Games and the Maze Runner will recognize the themes in this dystopian world of dark secrets, intrigue and thirst for a better tomorrow.

Free on Kindle for a limited time ($8.99 print)
Siren's Lure
By Frost Kay
Publisher: Renegade Publishing (the author's imprint)
182 pages
#1 Free in Sword & Sorcery
Fantasy: Pirate captain Lilja will do anything to keep her true identity hidden — she's a siren. But when handsome Hayjen, the human she rescues from drowning, learns her secret, can she trust him with the survival of her people?

Free on Kindle for a limited time ($14.95 audiobook)
Transmission
By Morgan Rice
Self-published
187 pages
Science fiction: When scientists detect a mysterious signal from outer space, a teenager with a terminal illness holds the key to deciphering the message. A USA Today bestselling author offers a fascinating depiction of Earth's first encounter with alien life.

Free on Kindle for a limited time
The Wrong Child
By Patricia Kay
Self-published
336 pages
Women's lit: Abbie Bernard and Logan O'Connell would do anything for their families. But when they realize that their beloved daughters were switched at birth, they'll face an unthinkable decision.

99 cents on Kindle for a limited time
Innocent Injustice – A Chance Reddick Thriller
By David Archer
Self-published
216 pages
Thriller: Chance was a good boy. Then his little sister Robin was killed in a senseless murder, and Chance's world started falling apart. It was just Chance and his grandmother, and little hope that the killers would ever be brought to justice. Grandma had told Chance all about justice. Now, it was time to put those lessons to work.

99 cents on Kindle for a limited time ($10.99 print)
Risk
By K.B. Rose
Self-published
253 pages
Romance: Leah has plans for the summer: Ditch the bodyguard provided by her overprotective father, fly to California to reconnect with her mother and find adventure courtesy of a daring bucket list. But things don't go as planned.

99 cents on Kindle for a limited time ($11.99 print)
The Storm
By Amanda McKinney
Self-published
270 pages
Romance mystery: Small-town detective Dean Walker stumbles upon a case that opens up his horrific past and his stone-cold heart.
Indie Film Watch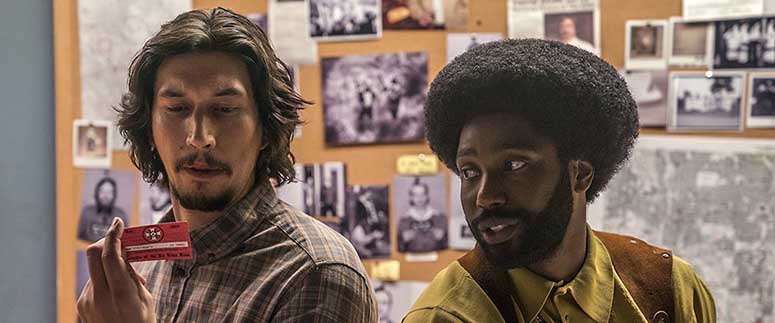 Adam Driver and John David Washington in "BlacKkKlansman." (Courtesy of Focus Features)
BlacKkKlansman
My cousin said I must must must go see this movie, so I'm hitting the local cinema this weekend. Ron Stallworth, an African-American police officer from Colorado, successfully manages to infiltrate the local Ku Klux Klan with the help of a white surrogate, who eventually becomes head of the local branch. Director Spike Lee returns to form in this indie production from QC Entertainment, Blumhouse Productions and Jordan Monkeypaw Productions.
In theaters now, coming to Netflix and streaming services soon.
---